I am a huge fan of DIY, but there are limits to it. You can save a lot of money if you learn how to do some fixes around your home by yourself or build something that you need in your backyard. Some jobs require professional help such as deck building or pool excavation.
One of the biggest disadvantages of DIY is that you may be doing something wrong even if you don't know it. On the other hand, you probably lack certain tools that can help you complete the task successfully.
When it comes to deck building is it better to call a professional company or to do everything by yourself? Let's find out.
3 Things to Consider
Building your deck will not be as easy as it seems even if you have all the know-how. There are three things that you need to consider whether you decide to do this by yourself of with a professional company.
Time
Time is the first thing. In case you want to build a deck as soon as possible then hiring a company is a much better choice. If you are not in a rush, then you can do it by yourself. Give yourself more time than you think that you will need. The reason for it is that not everything will go as planned and you will have some delays and unexpected challenges.
Materials
Materials is another thing that you will need to find if you go for the DIY approach. You need wood, or composite materials as well as nuts and bolts and some kind of foundation for your deck. Where will you get all these materials? If you don't know the answer to this question, you may want to abandon the DIY
Permits
Last but not least, in order to renovate or build something, you need to get an appropriate permit. To obtain a permit, you need to submit a site plan and construction drawings. This usually doesn't take a long time, but you need to prepare the documentation. Otherwise, you will not be able to start working and if you do, you will be fined.
Once you submit the documentation and it gets approved, make sure you stick with the plan and don't do anything differently. The construction drawings are permanent, so make sure you definitely know what you want to build.
Finding a professional deck building company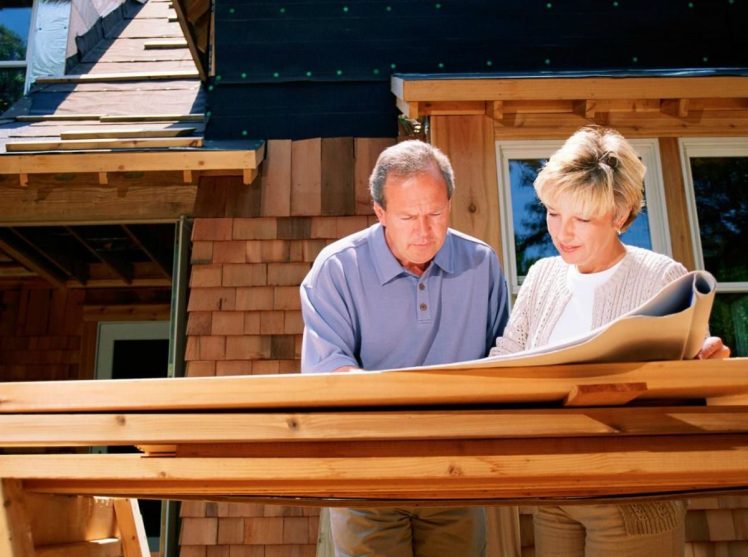 In case any of these things sound strange to you or you simply don't want to take all this responsibility, there's always an option to hire professional deck builders. According to Decksforlife.ca, most people who look for deck builders want the job to be done quickly and effectively, no matter the cost.
The price of the deck depends on the size of the deck and the materials used. For example, composite materials are more expensive than wood since it is more durable and easier to maintain. Furthermore, the company will take care of the permits for you and get all the right materials. They will need to pay their workers as well, but the job can be finished quickly.
It's not surprising to hear that hiring deck builders are more expensive than doing this by yourself. However, you don't have to worry about a single thing, except finding a good and reliable company.
If you are a bit strapped for cash and you know how to build a deck, or think you can handle it, let's see what you would need to do. We've already covered things such as timing, materials and permits.
Consider Options
A lot of people start a deck-building DIY project and once they begin, they call a company to help them finish. Most companies will refuse to do so because they could be held responsible for the work they didn't do.
This is why it is important to explore all the options and what's best for your deck. What's the simplest deck to build that can fulfill all the requirements? Also, keep in mind that once you start, you should know that it is definite.
Lighting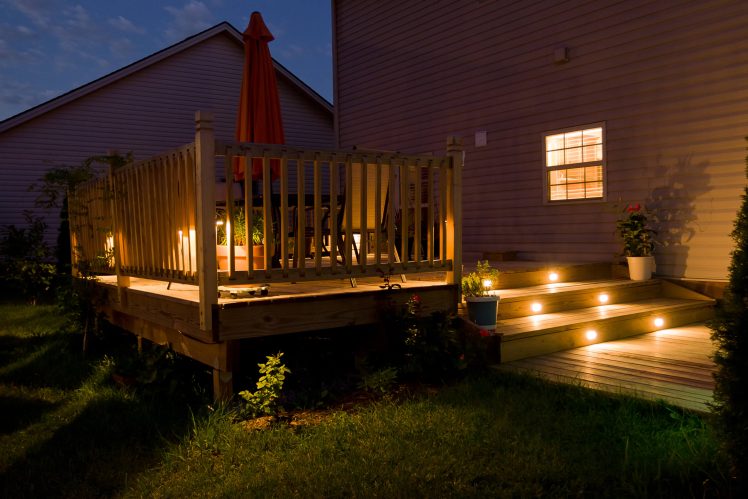 Deck lighting is used for ambiance but also to keep the deck visible so that you don't hurt yourself when it is dark. There are different lighting options that you can consider. Even though lighting is a finishing touch, you need to think about this earlier and include lighting in your initial plans too.
Tools
You need certain tools for building a deck and there's a high chance you have a bunch of it if you've opted for this step to build the deck by yourself. However, there are some power tools that you may lack and that can be expensive to buy.
You can either borrow it from a friend or rent it in case you need to use it. Think about all the tools that you will need and how you will acquire what you lack.
Landscaping
Once you build everything, you need to decorate the place a bit and do some landscaping. This isn't the hard part, but you need some decorative bushes around the deck or a tree nearby to provide shade. If you are not sure how to do so, you can always hire a landscape to help you out.
Even though this isn't related to building a deck directly, people often forget to add these expenses when they are planning. It is something to consider.
Someone to Help
Is there someone who can help you out? Building a deck by yourself can be too much no matter how much time you have. Having a couple of people who can jump in and participate in the project at least for a couple of days could be very useful. They don't have to do all the intricate work but they can really accelerate the process.
To conclude
Building a deck by yourself is definitely less expensive than hiring a company. You will save about 50% of your money because you will pay for materials only, plus some bureaucracy fees. However, you will need much more time to set everything up and build a deck. Is time more valuable to you or money? This will determine what you do.